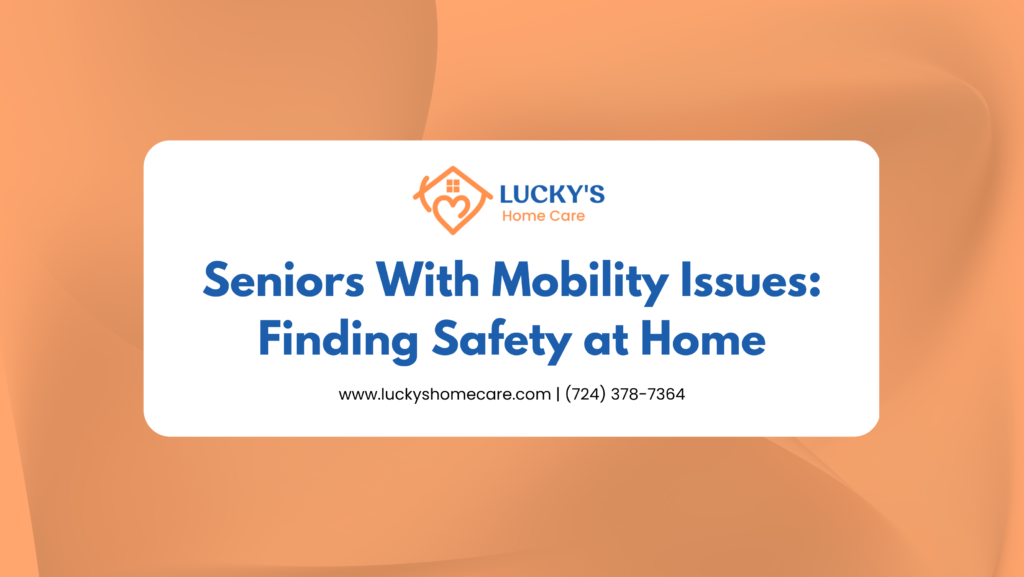 As we age, mobility can become a challenge. With senior mobility issues, everyday tasks like getting around the house, doing chores, and even using the bathroom can become difficult or even impossible. This can lead to safety concerns and a sense of insecurity in their own home.
Fortunately, there are solutions that help seniors live safely and independently at home. With the right support system in place, senior mobility issues can be handled to enjoy living at home again without sacrificing their safety or sense of security.
In this article, we will discuss some key tips for finding safety for seniors with mobility issues at home. We'll also talk about how having a dedicated caregiver can make life easier for both you and your loved one.
Challenges of Finding Mobility Solutions at Home
If you or an older adult you know is living with senior mobility issues, it can be difficult to find solutions that help them feel safe and secure when living at home. This can present numerous physical and emotional challenges when trying to maintain a good quality of life.
Before deciding on a solution for mobility challenges, it's wise to consider the senior's overall needs and any advice from their healthcare provider. Depending on the individual need, there are several options including Aging in Place, ADA bathroom modifications, as well as specialized mobility products such as stairlifts and platform lifts that can increase access throughout the home.
Unfortunately, older adults with long-term mobility impairments often face unresolved barriers when trying to find suitable mobility solutions at home. These may include limited access to resources or insufficient caregiver training on how to safely operate these devices. That's why it's important for caregivers to look into the range of available options and get help from experienced medical professionals who understand their situation and can recommend proper solutions.
Benefits of Having an Experienced Caregiver
Having an experienced caregiver is important for seniors with mobility issues who want to remain at home. Caregivers provide assistance with daily tasks such as housekeeping, self-care, and mobility, as well as giving the senior a feeling of security and that someone is looking out for them. Additionally, they can provide support through caregiver support groups to help older adults cope with their situation by feeling heard and validated, improving their coping skills and getting practical advice.
By engaging a trained caregiver to assist seniors with activities of daily living (ADLs) like dressing and bathing, as well as providing mobility aids such as lift chairs or walkers, the risk of falls is greatly reduced. This leads to seniors feeling safe and secure in their own home which has been proven to lead to better overall health outcomes.
Safety Measures to Put in Place
For seniors with mobility issues, it is important to take steps to ensure their safety while they are at home. Some of the most important safety measures to put in place are:
Installing Rails and Banisters
When going up and down stairs in the home, it is essential to install rails and banisters that can be used for support. This not only ensures a better grip for those with limited mobility, but also prevents accidents due to slips or trips.
Ensuring Bedroom is Accessible
The bedroom should be made as accessible as possible for those with mobility issues. This could include adding grab bars beside the bed, investing in adjustable beds that can be raised or lowered, and having comfortable seating options available.
Making Sure Hallways, Stairs, and Paths Are Well Lit & Clear of Objects
Having sufficient lighting in hallways, on stairs, and along all paths of movement is key – this will help reduce the risk of falls or other accidents due to poor visibility. Additionally, any objects such as rugs or furniture should be moved out of walkways in order to avoid tripping hazards.
Health Care Technologies to Consider
Living independently at home as a senior doesn't mean you're alone. Innovations in healthcare technology make it possible to be safe and secure while remaining at home. With the right system, seniors with mobility issues can count on the security of knowing that help is right there if it's needed.
Wearables and Smart Homes
Wearable devices like fitness trackers and smart homes can help to create a more secure environment for seniors with mobility issues. Fitness trackers can monitor a person's activity level, alerting caregivers if something is amiss. Smart homes are also becoming more commonplace, allowing caregivers to remotely monitor their home's lighting, temperature, and door locks from their mobile device or computer.
Personalized Mobile Health for Elderly Home Care
Personal mobile health for elderly home care takes things one step further, providing customized care plans tailored to the individual needs of a particular person. Caregivers can deploy this type of system to help seniors manage their own activities or receive proper medical attention when needed.
Automating Medical Alerts and Telemedicine
Automated medical alert systems provide an extra layer of protection for elderly folks living alone by providing immediate contact with medical personnel in case of an emergency or incident. Some systems also include telemedicine capabilities, allowing remote visits with physicians without ever stepping foot out of the house – essential for those with severe mobility issues.
Understanding the Different Types of Home Care Services
Seniors with mobility issues can often feel safer living at home with some help from a dedicated caregiver. Before deciding on the type of home care you or your loved one might need, it's important to understand the different kinds of home care services that are available.
Home Health Care Services
Home health care services include doctor care, nursing care, physical, occupational and speech therapy, as well as medical social services. This type of service is usually provided to those who need medical monitoring and assistance in recovering from an illness or injury while they're still living at home.
Home Care Services
Home care services include short-term nursing services, physical therapy, occupational therapy, speech language pathology, medical social work, and home health aide services. These are usually provided to those who are living with a chronic illness or disability and need help managing their condition while they remain in their own home environment.
Types of Home Care Agencies
There are various types of home care agencies which provide specialized services to seniors with mobility issues:
Home Health Services – These organizations provide skilled medical personnel such as nurses and therapists for general health maintenance, treatment for injury or illness, and rehabilitation for patients recovering from surgery or a major disability.

Personal Care and Companionship – These agencies provide nonmedical support for seniors who need assistance with everyday tasks such as dressing, bathing and grocery shopping but do not require clinical attention.

Private Duty Nursing Care – Private duty nurses are certified professional caregivers that help seniors manage chronic conditions such as diabetes and arthritis while providing general nursing duties including physical assessments, medication administration and wound care.

Home Health Care – This type of agency provides nurse aides who
Tips for Finding the Right Caregiver
Finding a good care provider for a senior with mobility issues may seem daunting, but it doesn't have to be. To help ensure that seniors remain independent and safe in their own homes, there are several steps you can take to find the perfect caregiver:
Understand Financial Reality and Evaluate Pricing
Before starting the search, it is important to understand the financial reality of having a dedicated caregiver. Make sure you know how much you can afford and look into the different care options available. You should also evaluate pricing across multiple platforms and services to compare offerings.
Check References and Conduct Background Checks
Once you have identified candidates, check their references and conduct background checks. Background checks should include verifying certifications, past employment information, education credentials or other relevant experience.
Use Multiple Platforms to Recruit Caregivers
Using multiple platforms will give you access to a wider range of caregivers and make it easier to find one that suits your specific situation. Look at local senior care agencies as well as online job boards that specialize in providing caregivers for seniors with mobility issues.
Offer Paid Training To Caregivers
It is important to ensure that caregivers have an adequate level of training for their job. Consider offering paid training programs so that they can become more knowledgeable about their role and responsibilities as part of their employment package.
Keep Onboarding Engaging To Maintain Interest
Keep onboarding engaging throughout the hiring process so that you maintain interest among potential candidates. Provide them with video orientations or virtual networking events where they can meet other members of the team and learn about different policies or practices related to working with seniors with mobility issues.
Conclusion
Seniors with mobility issues face a unique set of challenges when it comes to navigating their home safely. Fortunately, there are measures that can be taken to ensure their safety and well-being, such as obtaining assistance from a dedicated caregiver and outfitting the home with grab bars, wheelchair ramps, and accessible appliances.
These measures and more can help seniors remain independent and safe in their own homes, allowing them to age in place with dignity and comfort. With the right planning and assistance, seniors can be empowered to live a happy and successful life despite their mobility limitations.